Book Reviews (Resenhas de livros)
Issue 53 also receives reviews from the authors
Palavras-chave:
acústica e sociedade, dinâmica aplicada, acústica nas edificações, fundamentos de acústica, áudio espacial
Resumo
In this issue of the magazine, this section has five book reviews. In addition, there's something new: the first two reviews were written by the authors of the respective books themselves. The other three reviews were under the charge of the editors of issue 53. Another novelty is that all of them are also available in the English language (Portuguese versions start on page 1). 
We remind you that the reviews are written in an abbreviated and concise way in order to summarize the content of the books (in matters related to the various sciences that involve acoustics, vibrations, and audio) and to provide information about their authors (to further contextualize the works).
For this issue we bring reviews of the following books:
Sound-Politics in São Paulo    Author: Leonardo Cardoso | Oxford Press, 2019
Applied Dynamics (Dinâmica Aplicada)    Author: Roberto A. Tenenbaum | Editora Manole, 2016 (4 ed.)
Acoustics in Buildings (Acústica nos Edifícios)    Author: Jorge Patrício | Publindústria, 2018 (7 ed.)
Understanding Acoustics: An Experimentalist's View of Sound and Vibration    Author: Steven L. Garret | Springer, 2020
Spatial Hearing: The Psychophysics of Human Sound Localization    Author: Jens Blauert | MIT Press, 1996 (Rev. Ed.).
Leonardo Cardoso, professor at Texas A&M University, presents his book on sound policy in São Paulo. Roberto Tenenbaum, professor at UFSM, presents the fourth edition of his important work on the understanding of Acoustics & Vibrations. Then, one of the books by Jorge Patrício, a Portuguese reference in Building Acoustics, is presented. The fourth book is "Understanding Acoustics", authored by Steven Garrett. Finally, the classic text by Prof. Jens Blauert, "Spatial Audio", is also presented. We hope that reading the reviews will give you first understanding/impressions about the works and will help you want to get to know them in full: an excellent way to broaden your knowledge and keep up to date in the field of Acoustics.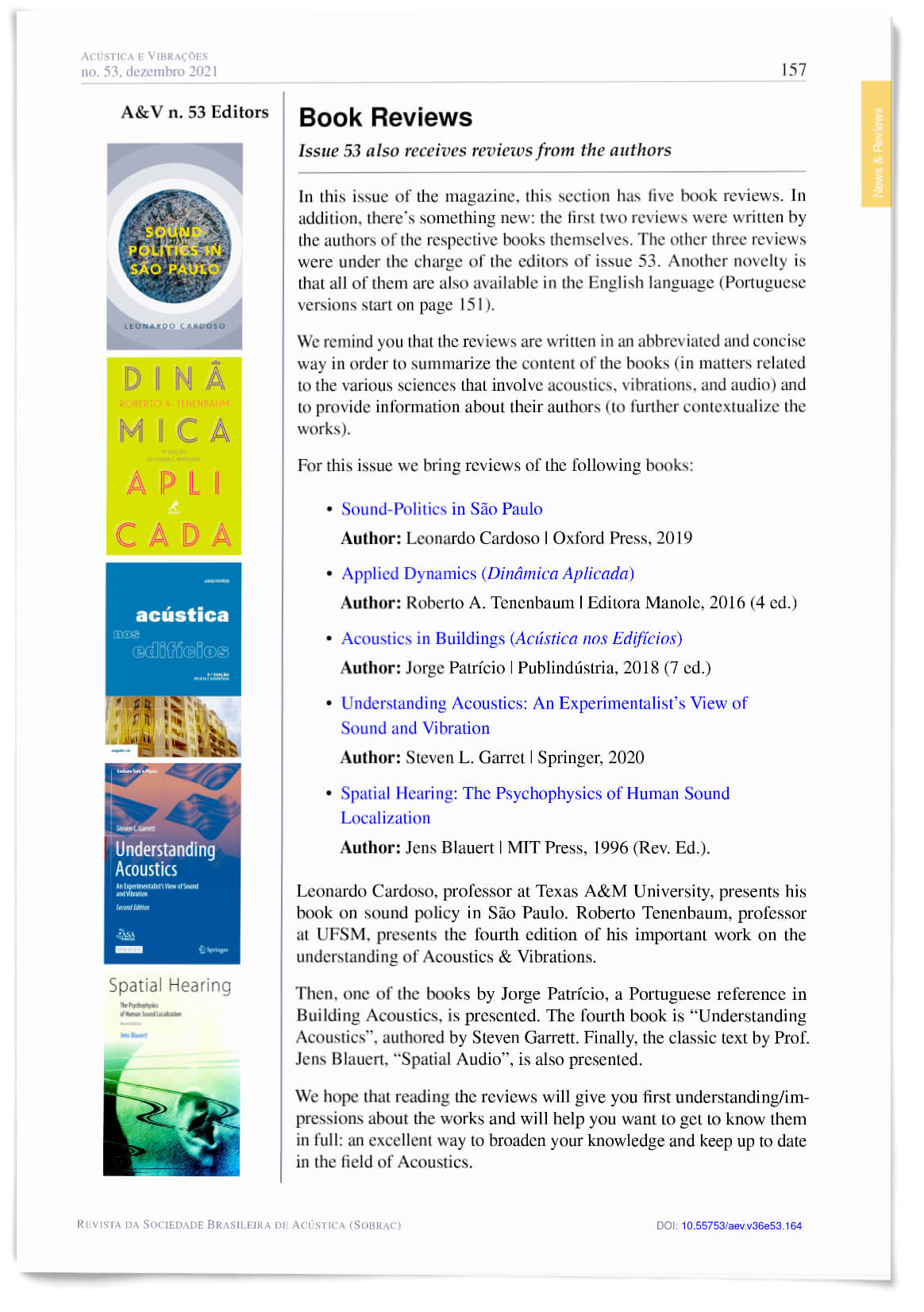 Downloads
Como Citar
CARDOSO, L.; A. TENENBAUM, R.; L. X. N. MICHALSKI, R.; M. SILVA, O.; D'ANDREA FONSECA, W. Book Reviews (Resenhas de livros): Issue 53 also receives reviews from the authors. Acústica e Vibrações, [S. l.], v. 36, n. 53, p. 157–162, 2021. DOI: 10.55753/aev.v36e53.164. Disponível em: https://revista.acustica.org.br/acustica/article/view/aev53_book_reviews. Acesso em: 10 dez. 2023.
Licença
Copyright (c) 2021 Acústica e Vibrações
Este trabalho está licenciado sob uma licença Creative Commons Attribution-NonCommercial-ShareAlike 4.0 International License.